Broadcast Texting
Send mass text messages with

just one click

.
Whether you're mass texting 100 or 100k people, we've got you covered. Hustle Broadcast helps you build scalable relationships using broadcast texting.
Meaningful relationships begin with 1:1 connections.
higher response rate for texts (vs. phone, email or Facebook)
SMS open rates per a gartner study
increased chance of closing a sale When Response is <24hr
Broadcast texting from a local 10-digit phone number
Switching from shortcode to a local 10-digit phone number for your broadcast messaging not only saves time and money, but it also ensures that your message gets the attention of a familiar number.
With a history of working with large, complex organizations, 10DLC-compliant broadcast texting via the Hustle Experience Platform ensures optimal message delivery.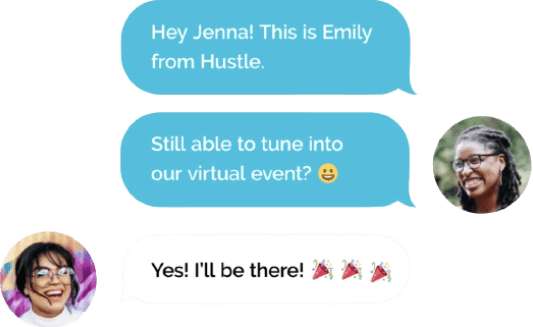 Broadcast messaging with no surprise billing
Utilize the 500-character message limit with emoji support. Hustle charges per message, not per segment, giving you the flexibility to share your mass text messages with the right amount of content.
Gain total flexibility with annual allowances instead of monthly limits (e.g. 1.20K messages/year instead of 100K messages/month). Built to accommodate the seasonality of your broadcast texting outreach.
Hustle Broadcast won't pass on carrier fees to customers.
Drive more engaging conversations en masse
Preview the content before you press send to prevent any mistakes or miscommunication.
Create and edit any Broadcast text message as needed.
View and reply to messages from the Admin inbox.
Target an unlimited number of contacts per Broadcast with advanced segmentation.
Include images, GIFs, videos and video stories to add personality to your conversation.
Frequently Asked Questions
Broadcast texting is an easy way to send mass text messages to a large list of recipients in just one batch. When you send a broadcast text message using Hustle's Experience Platform, your text shows up from a dedicated local phone number, increasing your chances of engagement and connection with your audience.
Broadcast messaging is simple. Build or import your list of subscribers who have opted-in to hearing from you. Then, write your message! We suggest keeping it short and to the point. Feel free to give it style by adding in emojis, GIFs, or video. Finally, review your message, click send, and watch the responses roll in.
The price for broadcast texting really depends on how many texts you plan to send each month. To find out more about pricing, book a free demo today!
Get Results
Hustle gets it done.
See how organizations of every kind—from big brands and universities to unions and advocacy groups—drive results with Hustle.