Union Organizing
Empower your membership to
get involved and stay connected.
Build capacity at union events, activate your members during contract negotiations, and build trust through 1:1 conversations.
Member Engagement
Educate and activate your members.
Keep members informed about contract negotiations, workplace updates, and campaigns. Engage union leadership and recruit front-line advocates. With Hustle, you provide the tools people need right now to stay connected and take action—without losing the personal touch.
Event Promotion & Follow-Up
Call on your members when you need them.
Organizing a rally? Tabling during contract negotiations? Turn a simple notification into a personalized invitation that gets people energized. Gauge interest and send reminders in only seconds. The outcome? Better engagement that leads to greater involvement with your union.
Hustle in the community
See how Hustle has transformed the way our clients work.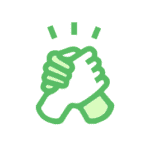 Jennifer Saldana
Lead Digital Organizer
SEIU-UHW
"We are able to reach a greater amount of people that we normally don't talk to in the field. They are on their phones. I like that I can easily set up campaigns on Hustle and know who sent what when."
Read their story
Our Clients
Since our launch, we have worked with hundreds of organizations to send over one billion text messages.